FERNANDO HALMAN lanceert nieuwe podcast via iTunes en Spotify ! Het gaat om de serie REAL TALK.
Iedereen heeft een verhaal, maar helaas is er niet altijd ruimte om het te vertellen. In de Nandoleaks-podcast Real Talk wordt deze ruimte wel gecreëerd: een ruimte waarin mensen volledig zichzelf kunnen zijn zonder dat er geoordeeld wordt. Welke ruimte dat is? Dat hangt af van de persoon en de situatie, want elk verhaal verdient de juiste plek om verteld te worden.
Zoals de naam al zegt: in Real Talk hoor je de echte verhalen. In dit openhartige gesprek draait het niet om succes, maar juist om de weg daarnaartoe. Drijfveren, struggles, hoogte- en dieptepunten: niets blijft onbesproken. Ondanks de soms heftige onderwerpen, staat één ding altijd voorop: positiviteit.
Real Talk is een inspirerende podcast, waarin je een eerlijke kijk krijgt in het leven van een artiest. Tot nu toe gaven Kempi, Ismo, Mula B en Josylvio zich al bloot. En wees voorbereid, want dit is slechts het begin!
De eerste aflevering met KEMPI is nu te beluisteren!
EERSTE AFLEVERING MET KEMPI
Nandoleaks RealTalk-podcast #1 met Kempi
Hoe kan het dat Kempi zich ineens heeft bekeerd tot de islam? Waarom heeft hij gekozen voor een liefdesrelatie met twee vrouwen? Wanneer besefte de gangsterrapper dat hij altijd al een crimineel is geweest? Waar komen zijn woede en constante foute keuzes vandaan? Waarom ziet hij TopNotch-koning Kees als zijn vader? Wat maakt dat Kempi moest huilen van zijn aankomende samenwerking met Anouk? En waarom wil hij per se de studio in met Ronnie Flex, Emms en Frenna?
Het zijn een hele hoop vragen, waarvan de antwoorden voor de buitenwereld nogal vaag zijn. Maar Fernando Halman graaft diep. In de Nandoleaks RealTalk-podcast #1 vertelt de omstreden rapper, die het imago heeft van een crimineel, alles. Maar echt alles.
AFLEVERING MET BIZZEY
YELLOW CLAW
Bizzey stond voor zijn solocarrière bekend als de frontman van dj-crew Yellow Claw. Toen zijn gezin uitbreidde had hij genoeg redenen om solo te gaan, maar anderen verklaarden hem voor gek.
"Ik hoefde nog maar twee jaar door te gaan met waar ik mee bezig was en ik zou nooit meer hoeven te werken. […] We kregen toen gewoon het bedrag van een kleine flat voor één show. […] Dus ik heb 'nee' gezegd tegen sowieso miljonair te worden, om te kiezen voor wat mijn hart mij vertelde."
FAMKE LOUISE
Een verrassende samenwerking van Bizzey was met Famke Louise. "Zij wilde een tune maken waarmee ze iedereen een beetje kon shoqueren. Toen heeft ze contact met mij opgenomen om mee te schrijven. De eerste keer zei ik wel nee, en ik dacht dat het misschien voor iemand anders was. Maar ze wilde echt mij erbij betrekken en dat vond ik wel sick."
AFLEVERING MET MULA B
De tijd op straat, was ook een gevaarlijke tijd. In zijn track Struggle rapt hij: "Ik ging bijna dood voor dertig euro." Toen hij in de problemen kwam met één van zijn klanten, besefte hij hoe weinig een mensenleven waard is in andermans ogen.
''Ik was toen net in de game. Ze zien dat in je ogen. Hij trok aan mijn jas en pakte een mes en wilde mij steken. Mijn jas was gescheurd. Toen deed ik alsof die sannie was gevallen en zei ik: het ligt daar. Hij ging zoeken, maar het lag daar niet. Toen werd ik ineens boos en ging ik juist op hém af."
En dat was niet de enige keer dat Mula B in levensgevaar was. Toen hij in het huis van één van zijn klanten was, werd hij bijna aangevallen met een zwaard. Maar Mula B was niet van plan om zich te laten beroven… "Ik ben ook een persoon met trots. Ik ga je mijn geld niet geven. Als je mij wilt neerhalen, gaan we samen neer. Dus kies maar."
HOE TE BELUISTEREN?
Elke week is een Real Talk te beluisteren via iTunes en Spotify.
Liever de RSS-feed toevoegen aan je eigen service? Dat kan! Vind de RSS-feed via deze link en voeg hem toe.
REAL TALK OOK OP YOUTUBE!!
FERNANDO OP DE RADIO!
Start Met Fernando op FunX
Fernando Halman
Maandag t/m vrijdag: 07.00 – 10.00 uur op FunX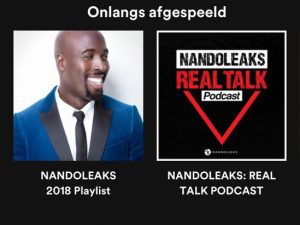 Follow the official Nandoleaks playlist on Spotify And Get The Hottest Music Now!