NANDOLEAKS: WAAROM KEMPI ZICH BEKEERDE TOT DE ISLAM?!|REAL TALK #1
Nandoleaks RealTalk-podcast #1 met Kempi
Hoe kan het dat Kempi zich ineens heeft bekeerd tot de islam? Waarom heeft hij gekozen voor een liefdesrelatie met twee vrouwen? Wanneer besefte de gangsterrapper dat hij altijd al een crimineel is geweest? Waar komen zijn woede en constante foute keuzes vandaan? Waarom ziet hij TopNotch-koning Kees als zijn vader? Wat maakt dat Kempi moest huilen van zijn aankomende samenwerking met Anouk? En waarom wil hij per se de studio in met Ronnie Flex, Emms en Frenna?
Het zijn een hele hoop vragen, waarvan de antwoorden voor de buitenwereld nogal vaag zijn. Maar Fernando Halman graaft diep. In de Nandoleaks RealTalk-podcast #1 vertelt de omstreden rapper, die het imago heeft van een crimineel, alles. Maar echt alles.
Deze podcast is de eerste van velen die nog komen gaan. Nandoleaks RealTalk is een serie gesprekken met prominente namen uit de scene, waarin niks anders dan hun waarheid wordt verteld.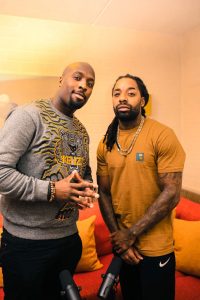 "De mens is niet perfect, maar de islam is dat wel." De 31-jarige rapper blijft Kempi als artiest, maar heeft er na zijn bekering ook een nieuwe naam bij, namelijk Bilal. Misschien denk je het al, Kempi moslim? Is dat niet hypocriet voor iemand die de status heeft van gangsterrapper en veel tijd in de gevangenis heeft doorgebracht vanwege vreselijke misdaden?
Hij vindt in ieder geval dat het niet aan jou is om te oordelen. "Dat is niet moslimlike." De rapper, die is opgegroeid met het Christendom, voelt dat de islam zich scherp houdt en dat hij daardoor minder snel toegeeft aan verleidingen. Eveneens als zijn twee vrouwen. Ze houden beide zielsveel van hem en hij van hen. De een doet letterlijk alles voor Kempi, tot aan z'n management. "Ik hoef niet zelf na te denken." En de ander, die een stuk jonger is, houdt de Eindhovenaar jong. Voor hem is dit de mooiste combinatie die je als man kan hebben. Toch benadrukt hij dat je hem natuurlijk niet per se na hoeft te doen. "Ik raad je aan om je hart te volgen."
Over mensen judgen gesproken, degene die dat nooit heeft gedaan is TopNotch-baas Kees de Koning. Hij is een vader voor Kempi, terwijl de echte hem als kleine jongen in de steek liet.
"Hij is de vader die ik nooit heb gehad. De band met Kees is niet te evenaren." Hij heeft Kempi nooit laten vallen, ook toen hij vastzat. "De laatste keer dat ik vrij kwam, was de eerste keer dat hij me op m'n flikker heeft gegeven. Dat mag, hij is mijn vader. Hij was teleurgesteld en het is z'n goed recht om boos op me te worden."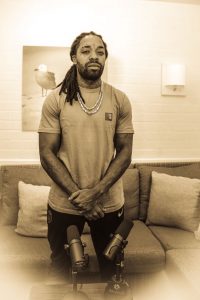 Kortom, Kees is Kempi's rots in de branding. Hij zorgde er ook voor dat er binnenkort een track aankomt waarop Kempi samenwerkt met Anouk. Ook dat ging niet van een leien dakje. Het ging zelfs gepaard met heel wat tranen. Maar goed, het is bijna beschikbaar voor de rest van de wereld. Hoe het nummer heet: No Love.
Written by: Kavita
#exclusive @TisssKempi interview #Nandoleaks pic.twitter.com/uttKdBV7ur

— NandoLeaks (@Nandoleaks) 9 februari 2018
Follow the official Nandoleaks playlist on Spotify And Get The Hottest Music Now!