NEW MUSIC: DJ KHALED FEAT. CHRIS BROWN, AUGUST ALSINA, & FETTY WAP – 'GOLD SLUGS'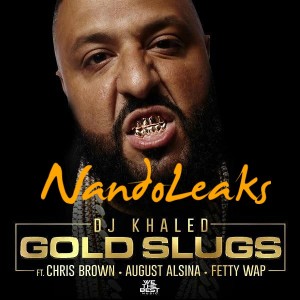 What do you get when you put Chris Brown, August Alsina, Fetty Wap on a DJ Khaled track well another Hit Record. DJ Khaled is known for doing things different than the competition so this time around he decided to drop two singles at once,both of them loaded with heavy weight features.Also listen how Khaled adds some of his signature humor, boasting about catering to his girl with a spread of seafood, rice, lobster, and some red velvet cake.
If you're a fan and want to get more Khaled hits then you gotta wait for his  new album I Changed a Lot, which hits stores Oct. 23.
NandoLeaks approved spread the word Khaled is back with Another One!!!
Follow the official Nandoleaks playlist on Spotify And Get The Hottest Music Now!