NandoLeaks: Era Istrefi Talks New Music with her sister Nora!!
Era Istrefi: "We actually collaborate everyday me and my sister.We work together in the studio, we share ideas. But we also thought about collaborating professionally and put out a song that would be so cool"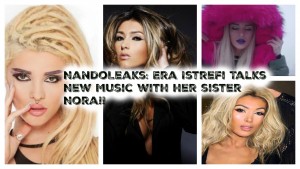 NandoLeaks New Video: Era Istrefi – Bonbon
Era Istrefi – Bonbon (English Version Cover Art)
Era Istrefi ft. Ledri Vula – Shume pis
Era Istrefi – Njo si ti
Era Istrefi's sister:
Nora Istrefi – Sa t'kom dasht
Nora Istrefi – Sje my lifestyle
Dulzura – Lève les mains en haut (Put Ya Hands up) ft. Reazun, Sansar Salvo, La Baby, Jon Tarifa
Follow the official Nandoleaks playlist on Spotify And Get The Hottest Music Now!