NANDOLEAKS NEW MUSIC: AUGUST ALSINA AND RICK ROSS DROP NEW SONG 'ENTANGLEMENTS'
When You are having a conversation about who cheated on who and your opinion is different just wear this t-shirt. Go Get Your I Didnt Cheat I was Entangled Merch.
The singer has collaborated with Rick Ross on a new song called "Entanglements," inspired by his headline-making relationship with Jada Pinkett Smith. Over the OG Parker-produced track, August starts off by defining the word.
"The definition of entanglement / It's when you tangle in the sheets," he sings. "Girl, I know that we don't call it a relationship / But you're still fu**in' with me."
"Shawty leanin' on my shoulder, got her questionin' my willpower / Jaded by her beauty, but her reputation real solid," he raps while referencing Jada's role in The Matrix Reloaded ("Caught up in the Matrix, and I doubt if I can get up out it") and her friendship with Tupac ("Still I gotta get around, favorite artist was 2Pac").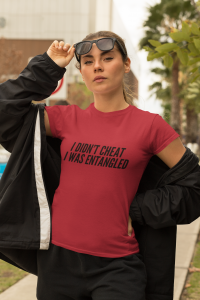 Follow the official Nandoleaks playlist on Spotify And Get The Hottest Music Now!