NandoLeaks New Music: Bone Thugs feat Stephen Marley – Coming Home
NANDOLEAKS: BONE THUGS RETURN TO MUSIC WITH STEPHEN MARLEY
NandoLeaks recently sat down in LA with Bizzy Bone of Bone Thugs N Harmony to talk about the new project and working with legends such as 2pac and Biggie. Bizzy is Bryon Anthony "Bizzy Bone" McCane, the bombastic, perpetually irreverent member of the innovative Cleveland rhyme crew that turned the rap game upside down with their head-spinning, speed-of-light lyricism, hardboiled street rhymes, and soulful harmonies, selling close to a remarkable 30 million records worldwide.
The first new Bone Thugs single in years has arrived "Coming Home"
The heart and soul of this dream project is "Coming Home," the anthemic first single from New Waves (produced by acclaimed Dutch studio visionaries Clifford Goilo and Avedon and legendary American hit-man Damizza), featuring reggae royalty Stephen Marley. The emotive, melancholy track finds Bone Thugs longing for their back-to-basics, midwestern roots amid the hectic whirlwind of fast living and celebrity.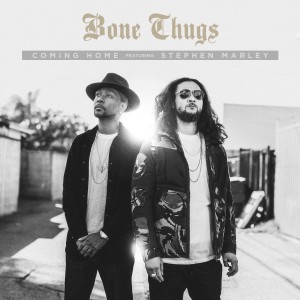 Follow the official Nandoleaks playlist on Spotify And Get The Hottest Music Now!