Drake is vrijgezel omdat hij de ware nog niet gevonden heeft of iemand die past bij zijn visie in het leven. Hij geeft in het interview met rap radar wel aan dat hij wel iemand is tegengekomen maar dat niet lang stand heeft gehouden.
Drake brengt binnenkort zijn zesde studioalbum uit. In een bericht op Instagram laat de Canadese rapper weten dat de plaat deze zomer zal verschijnen.
Meneer OVO heeft een tijd geleden een mixtape uitgebracht, met veertien oudere en nieuwere platen. Op Dark Lane Demo Tapes is onder meer Not You Too te horen, een samenwerking met Chris Brown.Deze twee waren vroeger aartsrivalen maar hebben de strijdbijl begraven en scoren sindsdien enorm als ze muzikaal samenkomen.
Drake bracht in 2018 voor het laatst een studioalbum uit. Op Scorpion stonden onder meer de hitsingles God's Plan, In My Feelings en Don't Matter To Me.
Ondernemer
Na de muziekindustrie wil Drake nu ook de cannabisindustrie veroveren. De rapper is een samenwerking aangegaan met een Canadees wietbedrijf en krijgt zijn eigen lijn, melden verschillende Amerikaanse media.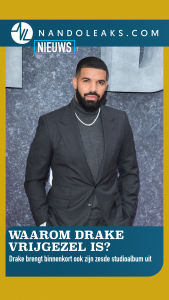 Follow the official Nandoleaks playlist on Spotify And Get The Hottest Music Now!