RedOne coming out with solo project and new music with Jennifer Lopez and Enrique Iglesias.
Recently FunX Radio DJ Fernando Halman and owner of NandoLeaks got in contact with RedOne and talked about coming up in the Industry, working with new talent and new projects with Enrique Iglesias and Jennifer Lopez.
Fernando has been a great fan of RedOne's musical landscapes for many years. The Dutch/Aruban Radio Host also wanted to know if the super producer was busy working with more new talent and If he was interested in doing more with Arabic artists?!
What is the secret to your success?
RedOne:"When you have fun the hits will come"A lot of people are just chasing the hit, but they forget about having fun in the studio and the passion of enjoying the moment.So that's my only focus and thank God everytime we had fun in the studio, the world had fun too."
Khaled – C'Est La Vie
RedOne told me that he used to sing and play in a rockband. So I asked him If he would ever consider putting out stuff as a producer turned artist like Timbaland and Pharrell?
He responded with: "I'm thinking about doing something like that."
Even Timbaland wants to work with RedOne's new artist Roya.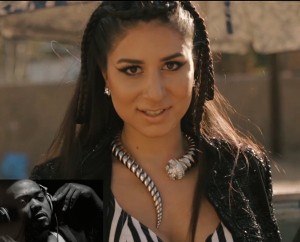 RedOne spoke very highly of Roya. "That voice killed me when I heard her the first time through a friend from France. He just reached out to me and said Red I found something special, You have to listen to her. I was like ok send me a demo and he sent me some covers she did and that voice killed me. And I remember I played her for Timbaland and he was In my studio saying Hi and he was like Oh My God who is this? Timbaland is aksing me now I want to work with this Girl."
I remember getting the Don Corleon remix of Roya's 'Lie' single featuring Shaggy in my inbox and at that moment I knew I was sitting on gold.
RedOne:"It takes that ear and that passion and love to really be open and a lot of courage to be open to a lot of new things. Because a lot of people are followers. There are a few leaders and So thank you for believing and trusting your instinct".
RedOne says that Shaggy is a great inspiration to him. "He proved to everybody when your a true talent,once a threat always a threat.He always comes and makes those big hits and then he takes some time off. Get some inspiration and comes back with another one. He's that guy, he's timeless. Sitting with him is very inspiring not just on music, but as a human being with the experience he has."
RedOne also spoke about working with Dutch singer Ayden and how he was introduced to her by Brahim Fouradi a man known for his great ear and eye for talent.
RedOne is also working on a secret project with big names like Jennifer Lopes, Enrique Iglesias, Lady Gaga and
RedOne talks about the fact that his wife is from The Netherlands and used to live in Utrecht and that they had a house there. He also says that his son was born in Holland so he always has a special connection with this country. Listen for yourself to what else the music maestro had to say?
Follow the official Nandoleaks playlist on Spotify And Get The Hottest Music Now!