In deze aflevering van Real Talk met Fernando is niemand minder te gast dan Mohamed Mezouari, beter bekend als Hamicha.
Deze Marokkaans – Nederlandse kickbokser staat momenteel onder contract bij kickboksorganisatie Glory en is momenteel de #1 in de Welterweight divisie. Hij wordt door velen al gezien als de toekomst van kickboksen.
Fernando volgt al jaren de grootste kickboksers op aarde en is daarom altijd benieuwd naar wat hen drijft, motiveert en inspireert. In deze podcast kom je meer te weten over zijn chemie met zijn trainer Said El Badaoui, zijn trainingen met MMA vechters en zijn ontmoeting met o.a Khabib.
Hamicha vertelt ook wat zijn dromen zijn in de sport en waarom hij zo gefocused te werk gaat en zich niet laat afleiden.
Hamicha vertelde in deze Real Talk sessie ook over zijn band met kickboks legende Badr Hari en wat hij van Badr leerde over topsport mentaliteit. Welke rol spelen het geloof, familie en vrienden in zijn leven? Je komt erachter in deze aflevering van Real Talk!
Mocht je ook benieuwd zijn naar de andere afleveringen van Real Talk met Fernando waarin andere kickboksers Hamicha voor gingen? Klik dan op de volgende link
https://bit.ly/3M79tSh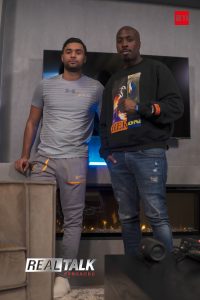 Follow the official Nandoleaks playlist on Spotify And Get The Hottest Music Now!